Hayley Blue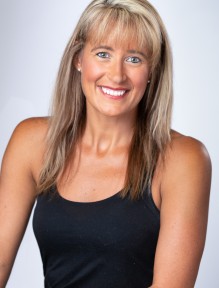 200 RYT
Definition of Simply Power Yoga
"Simply Power Yoga is place for me to connect on my mat and also with new people. It's a place to bring my everyday stresses of life and meet them head on in a positive way, on my mat. The atmosphere is very warm, friendly and inviting. After each class I feel better, feel balance, and my energy is up. Spy is a place to explore what my body can do and achieve, without feeling like the workout is a competition. My mat is my own playground".
Favorite Yoga Pose
"One of my favorite yoga poses is Child's Pose. I have learned through this pose to make a connections to my breath, relax my body, and that great strength comes from surrendering. Too many times in my life I breath fast, move faster, and think I can do life on my own without help. Yoga helps me create space in my mind and body, so I can grow in life. Child's pose brings me to this awareness."
"I came to workout at SPY in 2013 after an invite from a good friend. I had never thought about practicing yoga before but thought it would be good to hang out with a good friend without eating the calories, instead burn them together. After my first class, I fell in love with the hot studio and the absolute fun yoga. I came for the next month to all the different flows, teachers, and music. I felt a good connection. I was completely amazed by the empowerment and strength in my own body and mind.
In the spring of 2017 I completed my teacher training at SPY. I feel it is of great value to share with others the importance of taking time for yourself and the heath benefits that comes from connecting the mind, body, and spirit. Create the space you deserve and BREATH!!!
I live in Mt. Orab, Ohio and have three beautiful children. I teach Physical Education at Williamsburg Elementary."